What is Functional Flexibility?
Flexibility is a critical component of training for any kicking athlete! While traditional flexibility programs may help you go further into splits or some other stagnant position, they don't take into consideration a very important fact for martial artists...
We need to move...quickly...with a lot of explosive power!
Not to mention, martial artists use a unique set of muscles when kicking that are often not focused on in traditional flexibility programs.
As both an athlete and an instructor, I struggled to find a program that took strength, balance, and technique into consideration while focusing on the essential muscles used when kicking.
That's why I created Functional Flexibility! And now, just a couple years later, it's helped hundreds of people varying in age, gender, and athletic ability see results faster than they ever thought possible!


Functional Flexibility is Great For:
Martial artists (of any level) looking to increase the height of their kicks
Sparring competitors who need to effortlessly score powerful head kicks quickly
Poomsae/forms athletes looking for vertical kicks to score higher performance points
Kickers who want to increase their balance and control.
Martial artists who have tried flexibility training and have struggled to see results, or have reached a plateau

Hear From Someone Who's Already Enrolled
After almost 20 years of martial arts experience, Casey was starting to believe that her body wasn't made to be flexible, but after one week in Functional Flexibility...she almost immediately saw noticeable results!


Hear From More Students Who Have Enrolled

After being nearly paralyzed, he struggled to find motivation to continue training. That's when he found Functional Flexibility!
"It's just amazing.I found the program helping me out tremendously.
It incorporates dynamic, peaceful stretching, strength, and balance exercises designed to help you in those high kicks.
In just one month I gained so much in terms of strength to hold those legs in the higher position.
Not only that: it addressed my weakness in the hips and really helping me to slowly open them up.
It'll take time of course but I'm really confident to say that it'll work!

The course is very well designed and I highly recommend to everyone willing to gain those capabilities or regain better overall physical condition.
If it worked for me in my not optimal conditions, I can not imagine what it could do to anyone with no issues at all.

Alfredo Marano
4th Degree Black Belt Karate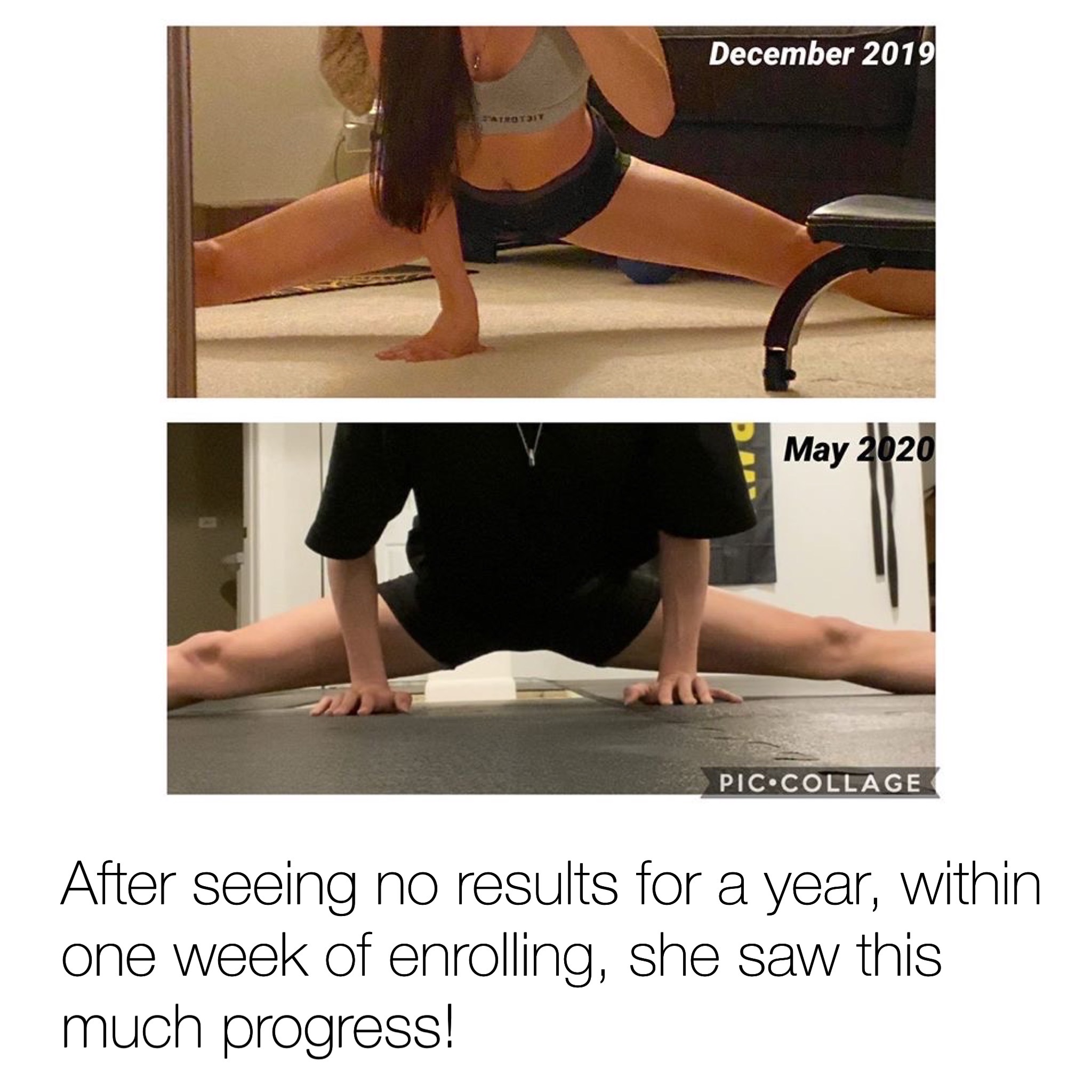 Meet Cristina!
"Hey Donavan,
I was in your online class that you had last week on Functional Flexibility. I just wanted to hop on here and personally thank you for all of the amazing work you put into that course. I spent nights watching it. And I've added quite a few things into my routine this last week and I honestly cannot believe the difference it has made. You completely blew my mind with how knowledgeable you are on this subject and to top it off you took away every doubt I had because of me starting at a later age.
I am 32 so I was told by many yoga instructors and people that train in Taekwondo that sometimes it's just not possible at our age or because of the way our body is. I've been at a plateau for geesh almost a year and in just one week of doing what you taught I have made progress that I was told wasn't possible for me. So thank you Donavan!"

Meet Michael!
"Hi Donavan,
After going through your entire course, I have positioned myself in between intermediate and advanced flexibility and I have really benefited from your explanation of the function of different types of stretches and how I have always neglected a certain part of my flexibility since I thought I didn't need it.

I have drafted my first stretching routine referencing your tutorials and after the first few days of practicing the routine, I am already seeing progress past my plateau which has bothered me for a long time. So thank you for sharing the experiences you have gained throughout the years, saving me from the unending trial and error."
Michael (5th Dan Black Belt)

Meet Deedee
I started taekwondo last Fall semester (2019) for fun and ended up hooked! As I went up in belt rank, I began to want to make my kicks better and be more flexible to do higher kicks. Donavan's functional flexibility did BOTH at the same time. Not only are my roundhouse kicks above my head level, they're also controlled. I began with the intermediate program and moved up to the advanced program. I learned so much! Strength, flexibility, mobility, and higher kicks DO NOT have to be exclusive and actually work together! My middle split is better! I finally managed to do the "split challenge." My mobility is the best it has been ever. Without giving too much away, you will be more flexible AND stronger so long as you keep consistency! Thank you Donavan for such a well thought out program (that I will keep doing!) and even motivational tips! 
- Deedee Montiel 
FAQ
How long will I have access to the course?
A: After payment, you have access to the course forever!
Is this course beginner friendly?
A: This course is suited for everyone beginner-advanced. The instructional knowledge is critical for everyone regardless of experience. There are three different workouts. One for beginner, intermediate, and advanced practitioners. The course also teaches you how to create your own Functional Flexibility routine that works specifically for you!
Have any other questions? Contact Donavan at [email protected]